Shipping on a
Straight Truck
Shipping on a Straight Truck
A straight truck is a type of commercial vehicle with a single frame that runs from the front of the truck to the rear. The box or cargo area of the truck is attached to the frame, creating one unit rather than the detachable setup of transport trucks. Straight trucks vary in lengths and weight and can be proficiently customized to meet the needs of the buyer. Other common names for straight truck is box truck, cube truck or cube van. This blog will go over some of the decisions to make when deciding on a straight truck that fits your needs best. 
Straight Truck Customization
Straight trucks are very customizable and buyers can have their trucks built in a way that best serves their needs. This is an important decision, trucks are an expensive purchase but with the right research, it can be an easy process.  
The first option to choose from is a ramp. Ramps are very usable, especially when a loading dock is not available or items are lightweight. They are slid out from the back of the trailer and placed on the ground at an angle. This allows the driver to walk in and out of the trailer, using a hand truck or other type of cart to load and unload items.
Liftgates offer greater usability and give the driver the ability to lift heavy skids or items into the trailer with minimal effort. Straight trucks that frequently load and unload heavy freight without a dock will benefit the most from a liftgate. Liftgates come at a higher price point but the increased capabilities will be worth it for most users.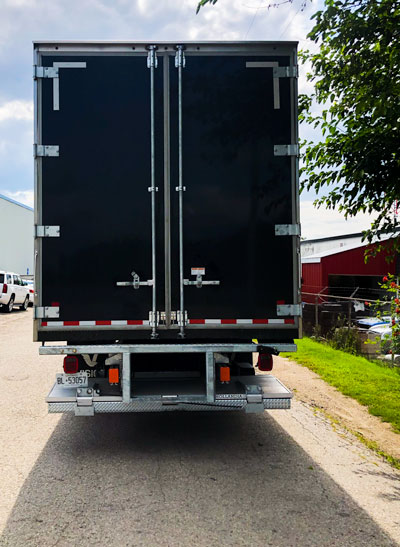 Barn Doors vs. Roll-Up Doors
The first type of door we are going to look at is barn doors. Also known as swing doors, they are a common sight in the transportation industry. This is because they maximize the cargo area and give better clearance for taller skids. This is very beneficial and can be the difference between saying yes or no to a load.
The next type of door that we are going to look at is the roll-up door. Roll-up doors were developed to give users quicker access to their trailers. Drivers can easily open and close the door in most locations. Along with this, roll-up doors offer a better setup for companies looking to put company decals on the rear of a trailer. Roll-up doors are more suitable for carriers that do curb-side deliveries with lightweight items.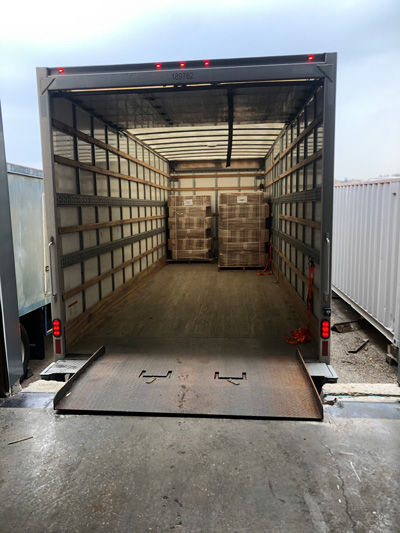 It is important to choose a floor that best aligns with your needs. Some floors come at a higher cost but will reduce operating costs in the long run. Understanding your needs will make this decision easier.
Pine floors are the cheapest option but also the least usable. If moving lighter, dry freight, a pine floor will be more than adequate for your needs. If carrying heavier or higher-risk freight, the greater durability with more expensive floors may be worth it.
Laminate hardwood is a proven floor type that will allow you to get the job done. Hardwood can handle heavier freight and offers solid durability. 
Steel and aluminum offer a step up from laminate hardwood. Aluminum is the most expensive option as it is more resistant to corrosion than steel. Both steel and aluminum are better options for carriers looking to carry liquid that could be spilled.
Straight Truck Customization
Light-duty trucks are built for smaller needs. They generally have a load capacity of 8,500 to 14,500 pounds. They often are equipped with a smaller cab area with a smaller engine. You would typically see vehicles like Ford E-250's or GMC Savana g33903's with a cargo box attached to the chassis. Light-duty trucks are typically between 10 and 16 feet and have varying capabilities. See below for more details:
12-Foot Commercial Box Truck:
9,900 lb. GVW

450 cu. ft of loading space

3,100 lb. payload
 16-Foot Commercial Box Truck
12,500 lb. GVW

800 cu. ft of loading space

4,300 lb. payload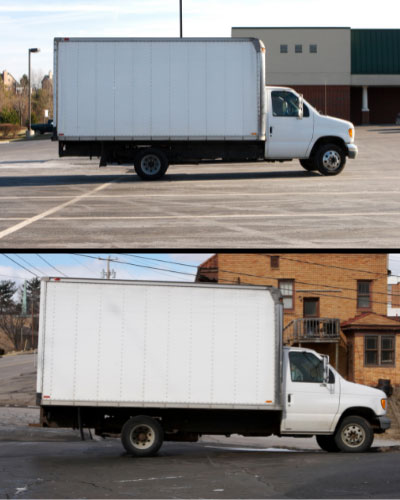 Medium duty trucks operate with a capacity of 15,000 to 33,000 pounds. They are used for heavier hauling and are designed to last for long periods, with a high number of miles. See below for examples of medium-duty trucks: 
20-Foot Commercial Box Truck:
14,500 lb. GVW

1016 cu. ft of loading space

6000 lb. payload
 26-Foot Commercial Box Truck
33,000 lb. GVW
1700 cu. ft of loading space
15,000 lb. payload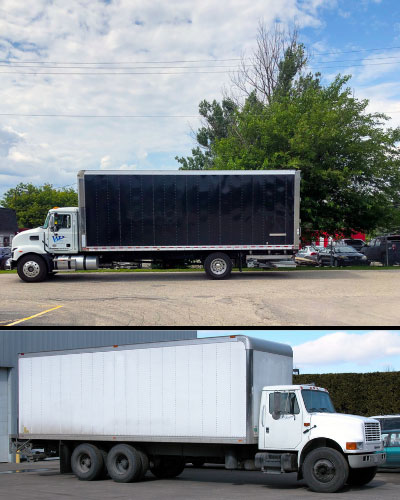 What are Straight Trucks Used For?
Straight trucks offer a a variety of uses and are an important piece of the transportation industry. You will often see transport companies of all sizes have a few straight trucks in their arsenal because they are sometimes the difference between saying yes or no to a load. Some common uses of straight trucks include: 
Furniture
Household goods (appliances, electronics, etc)
Loose freight
Skidded Freight 
Parcel Delivery
Expedited Freight
Straight Trucks vs. Transport Truck
The following table outlines some stats on straight trucks and how they compare to transport trucks.
Average Truck Age:
Straight Truck: 8.5 years (25,720 miles driven per year)
Transport Truck: 4.4 years (91,506 miles drives per year)
Average Number of Years until Replacement
Straight Truck: 10.0 years (350,000 miles driven before replacement)
Transport Truck: 5.5 years (754,000 miles driven before replacement)
As can be seen by these numbers, straight trucks are driven significantly less but are on the roads for a much longer duration. This is likely due to transport trucks being primarily used for longer haul types of trips and straight trucks more geared towards local delivery or types of deliveries where a driver stays within province or state.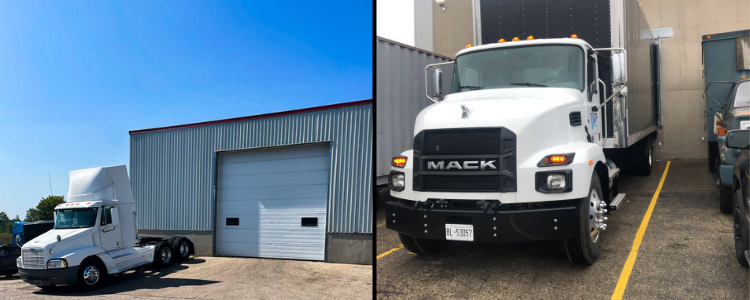 Straight trucks are built in a way that allows businesses to customize them to their needs. Finding the right truck can provide your business with significant savings in both time and money. Along with this, they are a more accessible option than full size transport trucks and some trucks can be driven with less licensing. Overall, straight trucks offer many benefits and are a great option for many businesses. 
We thank you for your time. We are always open to answering any questions and work our hardest to provide great services to our customers. Reach out to us today through [email protected] or give us a call at 519-213-1000!
The Team at ShipOntario,
A Division of Wood-Hall Logistics
What is a Straight Truck?